Lectures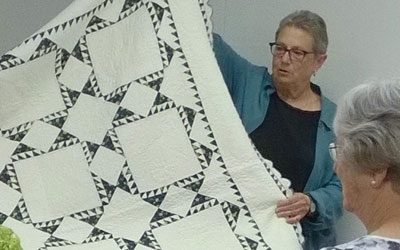 Julie Silber is a nationally known lecturer, author, consultant, and curator. For more than thirty-five years, she has been speaking on quilts as a focus for uncovering the rich world of our female past. All lectures include slides, actual quilts, or BOTH.
In addition to teaching and lecturing for quilt guilds, shows, and community groups, Julie has spoken at numerous seminars, exhibitions, museums, and universities including:
Renwick Gallery, Washington,D.C.
Harvard-Radcliffe
M.H. deYoung Museum, San Francisco
Atlanta Historical Museum
Wadsworth Athenaeum
Smithsonian Institution
National Gallery of Victoria, Melbourne, Australia
Antique Quilt Roadshow
Popular and Fun . . . Let's put on a show of YOUR antique quilts ~ No Kidding!
The Amish and Their Quilts
Filled with images of Amish life and of some of the best quilts ever made by Amish quilters.
Dearest Quilts: A Collector's Approach
Julie's own quilts — and her unique ideas of the hows, whys, and wherefores of collecting.
The Esprit Quilt Collection
25 years of quilts from this renowned collection, and a look at the company through the eyes of its only quilt curator.
The Grandmother Connection
Rich and colorful stories that connect quilts and grandmothers.
"I'm Quilting and I Can't Get Up" : Quilting, Addiction, & Therapy
Julie discusses the light and more serious sides of quilt making as therapy.
Mark My Words: Quilts and Messages
Textiles with Text. Quilts that incorporate the written word.
Off the Wall: "Maverick Quilts"
Fabulous quilts of unique vision and unusual techniques.
Visions of Paradise: Classic Hawaiian Quilts
Exploring and understanding the fascinating Hawaiian culture through quilts.
SHOW ME! A Trunk Show of Rare and Historic Quilts
In person! Some of the greatest quilts ever made.
Keepin' 'em in Stitches": America's Funniest Quilts
Learn and laugh – really laugh – along with Julie and some hilarious quilts.
The Whole Truth: Overlooked Masterpiece Quilts
The real story, told through quilts, of ordinary people across multiple cultures.
Quilts in Women's Lives: Threads Through Time
More than blankets — quilts commemorate beginnings, endings, passages and celebrations.
"I Wonder Why She Did That. . ."
Myths, facts, and guesses around some America's oddest and most expressive quilts.
The World of Quilts: For Girls Only???
An entertaining and enlightening look at gender and quilts.